In the Thai Kitchen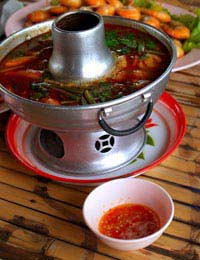 Compared to its British equivalent, a Thai kitchen is sparsely furnished - but the food that comes out of it is likely to be fresher and more flavoursome than many of the ready-meals dished up elsewhere.
The typical Thai kitchen will be a plain room, with window gaps in the walls for ventilation and light - and mosquitoes! - and a cement floor. The main feature is the stove. This will usually be made of cement or brick and will have a space inside it, in which is placed a pan of burning charcoal. Above that there'll be a hole on which the wok can sit.
You won't find an oven in a Thai kitchen so all the foods are cooked on the stove. A wok is used for stir-frying while a grid that is lain across the stove above the charcoal fire is used for grilling.
Something else you won't find, at least not in most homes in the country, is a fridge. Instead there'll be an old-style food safe, made of wood and wire mesh, in which the cook will keep garlic, chillies and a few other non-perishable goods. Most of the food used day by day is brought fresh from the market.
Sometimes the legs of the safe will be standing in saucers of water to stop ants climbing up and getting into the food.
Another piece of equipment that we would think is essential, a sink with running water, isn't always present in a Thai kitchen either. In many places water still has to be collected in large clay jars.
Around the walls there'll be a few shelves or hooks for storing kitchen utensils, and this is where the true nature of Thai cookery is revealed.
Rice
Gkin kao, the Thai for "to eat", actually means "to eat rice", so you can imagine that rice cooking and storing plays an important role in the kitchen.
In villages that have electricity the one thing the cook will really benefit from is an electric rice cooker. A Thai meal always includes rice so a vast amount of it is cooked and eaten; anything that makes a cook's life easier is greatly appreciated.
Alternatively a rice pot, a clay pot with a lid, is used - and kept exclusively - for cooking rice.
Yet another alternative for cooking rice is a steamer that may be made of clay or aluminium and sits where the wok would above the charcoal.
A rice grinder is used to make rice flour.
A rice basket will keep rice warm for some time.
Other utensils likely to be found in a typical Thai kitchen:
A well-seasoned wok is the prime cooking tool;
For stir-frying wooden spatulas are used;
A mortar and pestle made from stone or pottery are invaluable for grinding spices;
A grater specifically for coconut, an essential ingredient in many Thai dishes;
A chopping block;
A bamboo strainer;
A supply of skewers for grilling meat;
Coconut shell spoons in varying sizes;
Banana leaves for wrapping and serving food.
Cooking the Thai meal in the Thai kitchen
Preparation is the important thing. As many Thai dishes are stir-fried it's important to have all the ingredients chopped and ready to hand when cooking. The cooking itself won't take long if everything is prepared beforehand. And remember: the Thai cook will taste as cooking progresses, always checking for the right balance of sweet and sour, hot and salty.
You might also like...