How Asian Food Can Be Healthy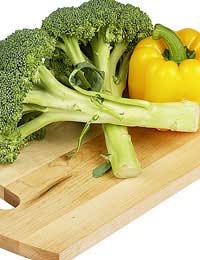 One of the things we've realised in researching Asian cookery is the emphasis placed on fresh and healthy food.
For many people in China, India or Thailand, especially those living in the countryside, electricity is a luxury - in some cases so is running water! Very few homes will have a fridge so it's out of necessity as well as tradition that food shopping is a daily business.
With thriving markets offering a wonderful choice of produce the housewife can take her pick from whatever is in season and available that day, knowing that it's fresh.
Sometimes in the West we may forget what that's like. Much of the food we buy from supermarkets has come from all over the world and will have been harvested days or weeks before we buy it. And it may well have been treated to preserve it. Just read the Ingredients panel on the back!
Our supermarkets are also full of ready-meals, which tend to be higher in fat and sugar than food that is freshly prepared. So though the Asian housewife, on the whole, won't have the choice in that respect that we have, the food she will prepare is going to be nutritious and flavoursome, fresh and healthy.
Are there any lessons we in the West can learn?
Chop the Meat
Meat plays a less important role in Asian cookery than it does in Western. When meat is used, it tends not to be the focus of the meal. Quantities served may be smaller, with a large selection of vegetable and noodle or rice dishes. Most doctors and dieticians recommend that we should eat less meat and fatty produce. By copying the Asian style we can change our eating habits quite painlessly - even for the most ardent meat-eater!
Seasoning with a Difference
Use more spices and herbs for seasoning instead of salt. There is general agreement that a high-salt diet isn't a good one to follow. By increasing and varying the spices and herbs you use, you can lift your foods onto new planes. Not only will it taste fantastic, the health benefits are tremendous.
Chilli - rich in vitamin A, good for the immune system, improves digestion;
Pepper - stimulates the taste buds, improving digestion, calming nausea;
Ginger - combats nausea and vomiting, good for motion sickness;
Garlic - antibiotic, also may help lower cholesterol;
And don't forget coconut - anti-viral, anti-bacterial, anti-fungal.
Get Fresh
Canned and frozen food is often of a high quality and is processed to retain its goodness as far as possible - but buy fresh produce whenever you can.
Choose locally-produced food - you know it's fresh, you're supporting your local farmers and growers, and you're cutting down on the carbon footprint involved in transporting food from across the world;
Go organic - certified organic produce has been grown free from chemical additives such as fertiliser or pest-killer;
Pick Fairtrade - and you'll know that small farmers in third-world countries will have been given a fair and guaranteed price for their produce. Most supermarkets sell Fairtrade tea, coffee, bananas and chocolate and more goods are becoming available all the time. Fairtrade produce always carries the fair-trade symbol so look out for it;
Don't demand uniformly-shaped fruit or vegetables: it doesn't always grow naturally like that. Accept nobbly carrots and peculiar pears!
The occasional ready-meal or takeaway isn't going to hurt us but by looking to the Asian way, we'll see that it is possible to produce quick, healthy and yummy food on a regular basis for all our family. Food that does us good and does the world good too!
You might also like...