How to Serve a Fusion Feast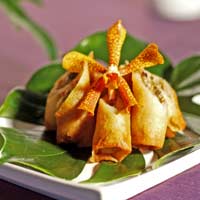 Since the 1990s the term 'fusion food' has become established as a reflecting and often confusing blend of cuisines that delivers a freshness to often highly ritualised styles of cooking. For some of us the fusion style comes from a cultural blending: haggis curry is common in parts of Scotland with a substantial population from the Indian sub-continent, and Australian/New Zealand chefs have long blended Pacific Rim dishes with imported ingredients. For others, this is a deliberate attempt to find new ways to integrate traditional cuisines and new ingredients or cooking styles. Serving fusion food is quite a delicate balancing act, because in wanting to honour both the cuisines that we're blending, we need to find a way to integrate the eating styles of two different societies.
Fusion Crockery
In planning to serve a fusion meal, think 'mosaic' when laying out the plates and serving dishes you're going to present the food on. Many Asian cultures use square or rectangular dishes or bowls to contain food, while European cultures have tended to prefer round or oval ones. Certain societies also use natural serving containers like leaves, or manufactured 'edible dishes' like pancakes or wraps. To blend these together can seem difficult but using your imagination and seeing the table as a mosaic rather than a blend of cultures can make it straightforward. For example, if you are serving pancakes that contain a blend of Asian and European food, put the pancakes (round) on square dishes and then put small round pots of dipping sauce on square mats, separated by lines of salt and pepper (draw them against a ruler and then tip it towards the condiment before lifting it to get a straight edge) to create a stunning blend of colour, flavour and imagery.
Fusion Eating Utensils
It's best to offer dinner guests a mixture of cutlery if you're not sure how adept they are: a pair of chopsticks plus a spoon and fork is a gentle way of giving them the choice whether to show off their skills or not. If you offer chopsticks, remember that wooden or bamboo ones are the easiest to use as they have a texture that helps the food to remain balanced. Plastic ones, as given away in restaurants and with take away food, are considerably more difficult to manoeuvre, as are lacquered or polished wooden ones, while the beautiful metal chopsticks used by Korean diners are really demanding. If you want guests to enjoy your food, don't make it difficult for them to eat it!
Modern cutlery offers interesting alternatives – look out for funky plastic spoons in neon colours, or ceramic forks and carbon coated knives with matte black blades. Consider also the value of presenting your fusion meal entirely as finger food, maybe by giving people a chance to roll taste sensations in a pancake or to use a rice-cake or sushi wrap to serve as an edible spoon that conveys food to mouth.
Fusion Entertaining
It's not just plates and cutlery that make a fusion meals special. Flowers and carved vegetables can hint at a Thai fused meal, while small bowls of miso soup served with other dishes as a 'hot dip' bring a Japanese sensation to the table. Indian elements can be enhanced by using sandalwood joss sticks to scent the room and using big leaves (banana leaves are available in many open markets these days) piled with squares of brownies for pudding servers.
Consider also the music you play. There are some subtle ways to blend cultural references, David Fanshawe's choral work African Sanctus, for example is a perfect fusion of musical styles from across Africa with the Latin mass and won awards for its quality and authenticity of musical purity.
European fused menus might offer harp music or madrigals as a background entertainment to the food.
Russian fusion meals can combine plain vodka with local ingredients to make pre-dinner cocktails, and other cultures have specific drinks that can offer interesting blends before or after the meal.
Similarly you can offer guests a range of 'fusion experiences' – Japanese diners are often entertained by playing games between courses, so a few small board games like Nine Men's Morris or origami paper with simple instructions for making origami shapes, might suggest that cultural history to diners. Another way to give guests a fantastic Japanese experience in summer is to take them into the garden and allow them to harvest their own edible flowers such as courgette blooms or to pick small tomatoes from the vine or fresh herbs such as large leaf basil or flat-leaved parsley which can then be taken back to the kitchen and cooked as tempura. If you're offering a Pacific Rim meal, then taking a break between savoury and sweet courses to listen to some Hawaiian music while offering guests a garland of flowers is a charming way of marking that culture's influence on the evening.
You might also like...