The History of Indian Food & Cookery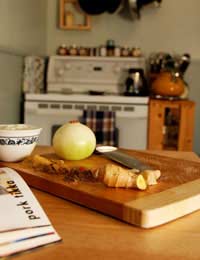 India has a long and proud cooking history, going back thousands of years. Archaeologists have found four different types of grain alongside millstones from 8,000 years ago telling us that even then Indian people were processing flour to use for cooking, maybe even making a very similar flatbread to what we have now.
Meat, rice, sugar, milk, vegetables and fruits were all available to cooks 3,000 years ago, who added their own 'magic' with spices that were to hand. It seems to have been a time of almost decadent living with rich foods and dishes complemented with nuts and dried fruits. Meat of all sorts was eaten with one speciality involving stuffing ever-smaller animals inside of each other before cooking the finished roast in the ground under a fire. But gradually, over the next few hundreds of years, this was to change.
Probably the two things that have most affected the history of Indian cooking could be said to be religion and invasion.
Religion
About 500 BC, Buddhism, which frowns upon meat-eating, began to attract many followers. Furthermore as Hinduism also grew in popularity, cows, which had always been revered, became almost deified and finally beef-eating was forbidden for Hindus. Although the influence of other cultures has seen the return of meat to today's diet of many Indians, vegetarianism is still very strong in India. Even for non-vegetarians, meat will form a smaller part of the daily diet than for many of us in the west.
Depending on your viewpoint, you may or may not think that stopping eating meat was good for the development of the Indian cuisine; there can be little doubt, however, that invasion was very beneficial for it.
The Invaders
Instead of India's traditional cooking being ousted by foreign incomers, it has been boosted. It changed to adopt and make its own those aspects of other styles of cookery that appealed. From the Muslims, India took the Persian techniques, blending them with its own to give us the Moghlai style. Onions and garlic that had fallen out of favour with Hindus - who regarded them as aphrodisiacs and therefore to be avoided - became popular again. As did nuts like pistachios and almonds. The biryani, which layers rice and meat, is a blend of Indian and Persian styles.
Muslims also reintroduced meat-eating and transformed meals from simply being a necessity into a pleasure. Eating together with friends, having a number of courses, prolonging the proceedings and even having music as an accompaniment turned the simplest meal into a feast.
Alongside the invaders were refugees such as the Parsee, who left Persia either following religious persecution or for financial reasons. Although small in number they made a significant impact on the Indian food culture with many dishes evolving from the combination of Persian and Guajarati cooking. Dhansak, a lentil curry, is an example of Parsee cooking.Europeans trading with India took home many spices, lavish fabrics and precious stones but they also took supplies with them. Through these traders, potatoes, chillies and tomatoes were introduced to the sub-continent. While some Indians were wary particularly of tomatoes as they saw them as bloodlike, they were soon adopted into the nation's cuisine. And as some of the Europeans settled in India, their style of cooking was also incorporated. For example, from the combining of Portuguese and Goan cookery we have the vindaloo.
The British rule of India was less generous to that nation's culinary repertoire but the colonials certainly took home with them a love of curry that today sees Tikka Masala, a British adaptation of an Indian dish, in the Top Ten of favourite foods in the UK.
You might also like...