Garlic in Asian Cooking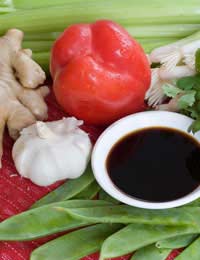 Garlic, onions and leeks all belong to the same lily family. A garlic bulb that grows underground can be comprised of anything between 10 and 20 garlic cloves.
It's important to remember the difference between a bulb and a clove when you're cooking – otherwise you might get more than you bargained for!
The garlic bulb is covered in whitish papery skins; the garlic cloves have pink skins. You remove both before using.
Garlic is one of the oldest cultivated plants in the world. Its origins aren't clear but it's likely to have come from Asia. Certainly the Chinese and Egyptians were both using it thousands of years before the birth of Christ. As well burying some in the tombs with the Pharaohs to aid them on their journey to the after-life, the Egyptians gave it to the slaves building the pyramids as they believed it increased strength and stamina. Ancient Greek and Roman soldiers and athletes also ate it before a battle or competition of strength. And, during World War 2, Chinese soldiers, forced to drink dirty water, chewed on garlic to counteract the bad bacteria.Nowadays it is an essential ingredient for many dishes worldwide.
Garlic In Asian Cookery
While garlic is a standard in many Chinese dishes, it is especially popular in Northern Chinese and Szechuan recipes. In Indian curries, garlic along with ginger and onions, again particularly in the north of the country where the Punjabis especially tend to work with this magical trio.You'll find garlic in some form in almost every Thai dish, whether it's grated or sliced, mashed or fired, it distinctive flavour will be there somewhere.
The Health Benefits Of Garlic
Garlic has been scientifically proved to have excellent antibiotic qualities. Research also suggests that it can help stop colds developing. Other claims for it include lowering cholesterol levels, lowering high blood pressure and even preventing the plague. Some claims, of course, are less proven than others!
Chopping or crushing garlic begins a process that results in the production of allicin. Many of garlic's health benefits are attributed to this so after chopping or crushing, leave the garlic for a few minutes for the allicin to develop.
Buying And Storing Garlic
Buy fresh garlic rather than pureed or in flakes for more flavour. Look out for garlic cloves that are firm and plump. The outer skin should be dry and there shouldn't be any signs of shooting.It's better not to keep garlic in the fridge, but store it, loosely covered, in a cool dark place. Whole garlic bulbs should keep fresh for anything from 2-6 months but once you've broken them open they deteriorate more quickly. If the bulb starts to sprout you can still use it but cut out the shoot.Do not keep garlic in oil at room temperature as there is a serious risk of botulism!
How To Use Garlic:

Fry for a crispy exterior but be aware that garlic is very sensitive to heat. Remove the garlic from the oil as soon as it starts to sizzle otherwise it will burn and have a bitter taste.
Mix with ginger, chillies, curry spices and fry for a curry paste.
Roast whole garlic bulbs. The flavour is much mellower than you might expect!
Grill peeled cloves for a smoky taste.
Crushed garlic cloves – especially if eaten raw! – have the strongest taste.
The longer it's cooked, the gentler the flavour.
Garlic Breath
Garlic is rich in sulphur; sulphur feeds the bacteria in the mouth; the bacteria cause bad breath.There are a few things you can try to reduce the problem:
Be scrupulous about oral hygiene – although if you eat a lot of garlic it can – and this sounds horrible – seep through your skin! So even if you've scrubbed your teeth and your tongue until they're raw, and gargled with mouthwash, people can still smell you coming!
Eat parsley with your meal. Not a sprinkling on top but a whole fresh stalk is said to help.
Chewing a cardamom seed is another suggested remedy, although cardamon seeds are not to everyone's taste.
Make sure your friends all like garlic too.
You might also like...