Chinese Meat Recipes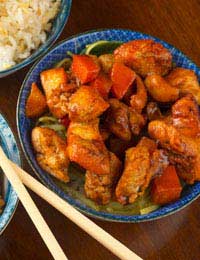 If you visited a restaurant in China, and ordered Chow Mein with Meat, what do you think the meat would be?
Don't worry! In spite of various tales you may have heard about what may be eaten, you could safely assume that you'd be getting pork. It's the most popular meat in China and there are numerous ways of cooking it.
We've one pork dish here for you to try, as well as two different ways of cooking chicken to give you an introduction to meat dishes from China. We were going to include Peking Duck but as you need a bicycle pump, a fan, and several days, we decided against it!
Char Sui Pork
2 pork tenderloins
½ cup sesame seeds
Marinade
¼ cup light soy sauce
¼ cup hoisin sauce
¼ cup clear honey
2 tablespoons brown sugar
1 tablespoon sesame oil
1 tablespoon grated root ginger
1 clove garlic, crushed
Mix all the marinade ingredients together in a bowl then add the pork, turning to make sure it's all coated. Cover the bowl and leave to marinate overnight.
Pre-heat the oven to 230oC, gas mark 8.
Sprinkle the sesame seeds onto a plate and roll the prok tenderloins in them until well-coated. Place the meat on a rack in a shallow roasting tray and bake in the centre of the oven for about 25-30 minutes or until cooked through. Allow the meat to stand, loosely covered, for another 10 minutes before slicing and serving.
Cashew Chicken
4 skinless chicken fillets
Marinade
½ teaspoon salt
1 tablespoon sherry
1 tablespoon light soy sauce
2 teaspoons grated root ginger
Sauce
2 tablespoons hoisin sauce
2 tablespoons soy sauce
2 tablespoons water
1 teaspoon sugar
1 clove garlic
4 spring onions
¼ cup cashews
About 1 cup of mixed vegetables for stir frying e.g. green pepper, mange tout, cabbage etc
Oil for frying
Cut the chicken into bite-sized chunks. Mix the marinade ingredients and add the chicken. Leave to marinate for about 20 minutes.
While the chicken is marinating, mix the sauce ingredients together. Finely chop the garlic and the spring onions. Heat a little oil in a wok and toast the cashews for a few minutes until lightly browned – but keep shaking the pan and try not to burn them!
Remove the nuts and heat 2 tablespoons oil in the wok. Add the chicken, its marinade and the garlic. Stir fry until the chicken is browned and cooked through. Remove from the wok.
Add some more oil and stir fry the vegetables for 2-3 minutes. Return the chicken to the pan and add the sauce. Stir fry over a medium heat until hot. Serve sprinkled with the toasted cashews and the spring onions.
Lemon Chicken
4 skinned chicken breasts
Marinade
1" grated root ginger
4 tablespoons lemon juice
1 tablespoon sherry
1 tablespoon oyster sauce
1 tablespoon light soy sauce
1 teaspoon brown sugar
Place the chicken breasts in a bowl and pour the marinade over. Leave to marinate for about 20 minutes.
Steam the chicken over water for about 40-45 minutes until cooked through. Heat the reserved marinade and pour over the chicken before serving.
Serve hot with freshly boiled rice and garnished with lemon wedges and chopped spring onions.
Even if you don't have a special steamer, you can still make this dish.
You can buy steam racks that convert your wok into a steamer or you can use a metal colander inside your wok.
If you improvise make sure that the water doesn't touch the food being cooked, that the steam can circulate freely around the food, and that the wok has a good lid that will seal in the steam.
You might also like...
All of these recipes sound wonderful! I can't wait to try them. It's about time that I found an asian food recipes website. am looking forward to many great meals to make for my family and friends. Thank-you, Sincerely bamboomom
bamboomom
- 26-May-12 @ 4:38 AM