Classic Chinese Dishes - Main Courses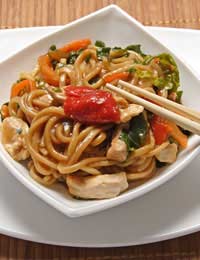 For our classic dishes we're not necessarily including dishes that would be familiar in China but rather Westernised dishes that you'll find on any Chinese restaurant or takeaway menu. In most of these recipes you can vary the meat or the vegetables used and increase or decrease amounts to suit your family and appetites.
In China you'll find sweet and sour sauce used more as a side dish for dipping rather than it being incorporated in the cooking of a dish. The most basic form used vinegar and sugar to provide the contrasting tastes but it was the Cantonese version that was adapted, originally for pork, to become what is now easily recognised in the West.
Sweet and Sour Chicken Balls

2 lb skinned and boned chicken pieces
1 cup plain flour seasoned with salt and pepper
½ cup milk
2 eggs
Oil for deep frying
1 green pepper, cored and deseeded
1 yellow pepper, cored and deseeded
1 red onion, peeled
1 large carrot, peeled
1 can pineapple chunks in natural juice
Sauce
1 cup water
¼ cup brown sugar
¼ cup red wine vinegar
3 tablespoons lemon juice
2 tablespoons cornflour
Chop the chicken into bite-sized pieces. Dip the chicken pieces in the seasoned flour. Make a batter by mixing the eggs and milk together.
Heat oil in a wok or a deep fryer. Dunk the chicken pieces in batter. Let excess batter drip off before putting the chicken pieces into the hot oil. Fry a few at a time until golden-brown. Keep warm.
Chop the peppers and onion into ½ chunks. Slice the carrot thinly. Drain the pineapple chunks, reserving ½ cup juice for the sauce.
Put the pineapple juice and water in a small saucepan and bring to the boil. Add the sugar and stir until it is dissolved. Add the vinegar and lemon juice. Make a paste of cornflower and a little water. Add to the sauce and heat until it is thick and opaque.
In a separate pan stir fry the peppers, onion and carrot. When they're soft, add the sweet and sour sauce and mix well. Add the pineapple chunks and chicken pieces and simmer until thoroughly heated.
This sauce will have a brownish colour. If you want the red that is traditionally seen in Chinese takeaways, use white sugar instead of brown, and add a little red colouring.
Chicken Chow Mein
Chow mein is of Chinese-American origin although its name comes from the Mandarin, meaning 'to stir fry noodles'. It's usually a dish of noodles, vegetables and meat or shellfish but you can leave out the meat if you prefer.
4 teaspoons sherry
4 teaspoons light soy sauce
2 clove garlic, crushed
2 teaspoon grated root ginger
4 chicken fillets, thinly sliced
1 pack medium egg noodles (for 4)
2 carrots, peeled
4 oz mange tout, topped and tailed
8 spring onions
4 oz broccoli
3 oz green cabbage
4 oz bean sprouts
oil
2 tablespoon oyster sauce
2 teaspoons sesame oil
Make a marinade of the sherry, soy sauce, garlic and ginger and leave the chicken slices to marinate for 1 hour.
Diagonally halve the mange tout and slice the remaining vegetables into similar shapes or sizes.Cook the noodles as stated on the packet. Drain.
Heat some oil in a wok and fry the chicken and its marinade for 4-5 minutes until the chicken is browned. Add the carrots, mange tout, spring onions and broccoli and stir fry for 2-3 minutes. Add the cabbage, bean sprouts, oyster sauce, sesame oil and noodles and continue cooking for another 2-3 minutes.
Serve immediately.
You might also like...