Chinese Soup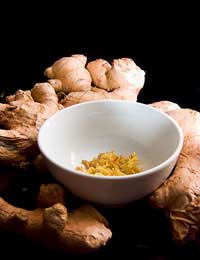 There's an old Chinese saying, "to win a man's heart, a woman must first learn how to cook a good pot of soup."You'll probably gather from that that soup is an important part of a Chinese meal! It is usually served in place of water or tea as an accompanying drink that is supped during the meal. In some Chinese homes, it will still be served in a communal bowl, into which people can dip their spoons as they wish.
Soup served in this manner would be of the thin variety as opposed to the thick soups that are especially common in Cantonese cookery. Two of the most famous of these slow-cooked soups are Shark's Fin and Bird's Nest, which both demonstrate the Chinese determination to waste nothing that can be eaten!
Monosodium glutamate (MSG) is frequently used in Chinese cooking to bring out flavours but we prefer to avoid using it. What is needed for a good thin soup is a well-flavoured stock.
Easy Home-Made Stock
After your roast chicken dinner, break up the leftover carcass and place in a large saucepan with the giblets, 2 chopped onions, 2 chopped sticks of celery, a bay leaf, a sprig of parsley and a few peppercorns. Cover with water and bring to the boil. Allow to simmer gently for about 2 hours. Season with salt, strain and cool. It will keep for about 3 days in the fridge.
Chicken noodle soup
3 skinless, boneless chicken fillets
3 tablespoons dark soy sauce
2 tablespoons sherry
2 tablespoons sesame oil
3 cups green cabbage, finely chopped
4 spring onions, chopped
3 garlic cloves, finely chopped
2 tablespoons root ginger, grated
1 red chilli, cored, de-seeded and finely chopped
3 tablespoons tahini (sesame seed paste available from Asian grocers and delicatessens)
1 tablespoon sugar
3 pints chicken stock (fresh or made with stock cubes)
8 oz Chinese noodles
Handful chopped coriander
Slice the chicken into stir-fry type strands. Place in a bowl with the soy sauce, sherry and 1 tablespoon sesame oil. Mix well and leave to marinate for 30 minutes.Heat remaining oil in a wok. Add the cabbage and spring onions and stir fry for 3 minutes. Add the garlic, ginger and chilli and continue to stir fry for another 2 minutes or until the cabbage is tender.
Add stock and bring to the boil. Add tahini, sugar, chicken and marinade. Simmer until chicken is cooked through (about 5 minutes).Cook the noodles according to the instructions on the packet. Add to the soup and season to taste. Serve sprinkled with coriander.
Hot and Sour Soup (vegetarian)
10 Chinese dried mushrooms
2 pints water
3 leeks, washed and cut into strips
1 lb tofu, cubed
1 tablespoon root ginger, grated
2 cups bean sprouts
½ teaspoon Tabasco sauce
2 tablespoons cider vinegar
¼ teaspoon black pepper
2 tablespoons cornflour
2 tablespoons dark soy sauce
2 spring onions, finely chopped
Place mushrooms in a bowl and cover with boiling water. Leave to stand for 30 minutes. Drain the mushrooms, reserving the liquid, and cut into strips. Pour water and mushroom marinade into a wok. Add the leeks, tofu, ginger, bean sprouts, Tabasco, vinegar and pepper. Bring to a boil.
Mix the cornflour with the soy sauce and a little water to make a paste. Stir into the soup and return to the boil. Simmer until soup thickensServe sprinkled with spring onions.
This can be prepared ahead and frozen but don't freeze the tofu. Add it when you're ready to use. Bring to the boil and heat through.
You might also like...