Chinese Desserts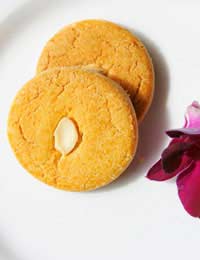 If pudding is your favourite part of the meal, then China's not really the place for you!
A typical meal for a Chinese family will end with fruit, fresh or tinned, with desserts only being prepared for parties or feast times. But when the Chinese do desserts, they really do desserts!
One of China's most famous desserts is its Sticky Cake or Nian Gao, which is traditionally served at Chinese New Year celebrations. It is made to be fed to the Kitchen God so that he will give a good report of the family when he returns to heaven at the beginning of the new year.
Its name is incorporated into the greeting 'Nian Nian Gao Sheng', which means 'May you have increased prosperity this new year.'
To make it you need glutinous rice flour, which is available at Asian grocery stores.
Chinese Sticky Cake
¾ cup water
1½ cups dark brown sugar
1¼ cups rice flour
1 egg
2 tablespoons milk
½ cup dates, chopped
Grease a 7" cake tin.
Put the sugar and water in a saucepan and bring to the boil. Simmer, stirring, until the sugar has dissolved. Allow to cool.
Mix flour, egg and milk together in a bowl. Add the syrup and stir thoroughly until smooth then add dates and mix well. Pour the batter into the cake tin and steam for about 45 minutes, or until the cake starts to come away from the edge of the tin.
Leave in the tin to cool, then serve in thin slices.
Cookies are usually part of the New Year celebrations as well and these are one of the most popular.
Almond Cookies
½ cup white sugar
¾ cup soft brown sugar
½ cup margarine
1 egg
½ teaspoon almond essence
2 cups plain flour
½ teaspoon baking powder
Sesame seeds and blanched almond halves for decoration
Preheat the oven to 180oC, gas mark 4. Grease a baking sheet.
Sieve together the flour and baking powder.
Beat the margarine and sugars together until light and fluffy. Add the egg and almond essence and beat again. Fold in the flour to make a smooth dough.
Divide the dough into walnut-sized balls. Flatten slightly and dip the top in sesame seeds spread over a saucer. Gently press an almond half into the centre and place on the baking sheet, leaving room for the cookies to spread.
Bake for 8-10 minutes until golden brown. Store in an airtight container.
Peking Dust is a sweet and rich dessert based on chestnuts and cream. It's said that the chestnuts resemble the dust of the Mongolian desert.
Unlike some recipes that have a long list of ingredients but are quick to make, this recipe is short but time-consuming! You'll need to use fresh chestnuts as tinned pureed chestnuts won't have the desired effect.
Peking Dust
1 lb fresh chestnuts
½ pint double cream
4 tablespoons caster sugar
Make little slits in the chestnut skins before placing them in a saucepan of boiling water. Simmer them for 25-45 minutes. Drain and cool until cool enough to handle. Peel off all the outer skins leaving the yellowy flesh of the nut. Chop roughly and blend in spurts in a liquidiser until you have a fine ground consistency. Stir in 2 tablespoons of sugar.
Whip the cream with the remaining sugar to a soft peak consistency. Divide the cream between 8 dishes, making little mounds in the dishes, then sprinkle with the chestnut 'dust'. Top with a glazed walnut (see below).
Glazed Walnuts
2 cups walnut halves
¾ cup white sugar
¼ cup water
Place all the ingredients in a glass bowl. Microwave on high for about 8 minutes or until the syrup has caramelised on the walnuts. Stir occasionally.
Pour the mixture onto a greased baking sheet and separate out the nuts. Allow to cool completely. Store in an airtight container.
If you prefer you can caramelise in a saucepan over direct heat.
You might also like...