Classic Chinese Dishes - Starters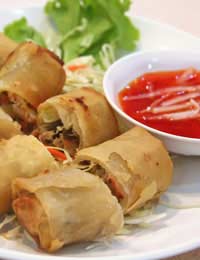 Many of the classic starters to be found in most Chinese restaurants or takeaways in the West aren't necessarily found in restaurants in China! But that doesn't stop them being yummy.
Prawn Toasts
Topping
1 lb raw prawns shelled and de-veined
1 egg
2 tablespoons spring onions, finely chopped
1 tablespoon light soy sauce
2 teaspoons fresh ginger, finely chopped
1 teaspoon salt
1 teaspoon sesame oil
Toast
10 slices bread, at least 1 day old
3 tablespoon sesame seeds
Oil for deep frying
Chop the prawns and mash them with the other topping ingredients. Spread over the slices of bread. Sprinkle with sesame seeds. Cut into quarters.
Heat the oil in a wok or deep fryer to a moderate heat and fry the squares, a few at a time, for 3 – 5 minutes or until golden brown. Drain on kitchen towel and serve warm.
Spring Rolls
Traditionally these little parchment-like rolls were served at Chinese New Year to welcome the coming in of Spring. They're made all over China with many regions having their own distinctive filling. The wrappers can be bought in Chinese grocery shops or supermarkets or you can use filo pastry.
3 tablespoons oil
3 oz minced pork
3 oz raw prawns, shelled, de-veined and chopped
8 oz finely chopped chicken breast
1 cup celery, finely chopped
1 cup bean sprouts
½ cup bamboo shoots, finely chopped
1 cup mushrooms, finely chopped
1 teaspoon light soy sauce
1 teaspoon salt
1 teaspoon sugar
1 teaspoon sesame oil
¼ teaspoon white pepper
2 tablespoons cornflour, mixed to a paste with a little water
10 spring roll wrappers
Fry the pork in the oil in a wok over a high heat for 1 minute. Add the chopped prawns and stir fry for 30 seconds. Add chicken and vegetables and stir fry for another minute. Stir in the soy sauce, salt, sugar, sesame oil and pepper. Stir in enough cornflour paste to thicken the mixture, which shouldn't be too runny. Allow to cool and then refrigerate covered.
Place about 2 tablespoons of the mixture on a wrapper. Begin to roll up. Paint the edges of the pancake with some of the cornflour paste; about halfway through rolling, fold in the ends. Continue rolling until finished, sealing it all with cornflour paste. Set each one aside until you've completed them all.
Heat oil in a wok or deep fryer to 375o. Cook a few rolls at a time – don't over-crowd – for about 5 minutes or until golden brown. Drain on kitchen towel and serve with a dipping sauce. (See below.)
If you prefer, you can oven-bake them. Pre-heat the oven to 220oC, gas mark 7. Grease a baking sheet and lay the spring rolls on it. Brush with melted butter or beaten egg and bake for about 30 minutes.
A Vegetarian Filling
1 clove garlic, finely crushed
1 carrot, grated
4 oz green cabbage, finely chopped
1 red pepper, finely chopped
4 oz bean sprouts
½ tablespoon sugar
1½ tablespoons soy sauce
Salt and pepper
Oil
Soften the vegetables in oil in a wok. Add the sugar, soy sauce and seasoning to taste. Stir well.
Dipping Sauces
For a spicy sauce, mix together 2 tablespoons vinegar, 2 tablespoons sweet chilli sauce, 4 teaspoons light soy sauce and 2 teaspoons sugar.
For a sweet and sour sauce, place ½ cup vinegar, ½ cup sugar, ¼ cup sherry and 1 tablespoon soy sauce in a saucepan and bring to the boil. Make a paste of 1 tablespoon cornflour with a little water and add to the saucepan. Stir until the sauce thickens and clears.
You might also like...