The History of Chinese Food & Cookery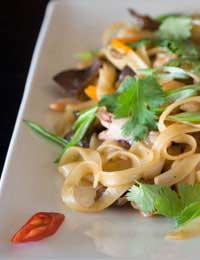 The history of Chinese cooking goes back a long way. Experts agree that China has had its own identifiable cuisine for something like 5000 years, and that today's style of cooking probably has its roots in the time of the Ming Dynasty (approximately 14th to 17th century).
Cooking and food are certainly important parts of life for the Chinese, and still today usually involve a trip to the market for fresh produce: no frozen or ready meals here! A tradition of hospitality and a love of good food, combined with experimentation and philosophy, have led to the feast that is Chinese cooking.
Philosophy
To a Chinese cook it's the texture, colour, flavour and aroma of a dish that make it just right; it should appeal to all the senses rather than just taste. And that it should be fresh goes without saying.
The philosopher, Confucius (who lived around 500 BC), taught that food should be prepared and eaten with harmony. He also taught that to wield a knife at the dinner table was very bad manners! Authentic Chinese food should be served in bite-sized pieces to avoid the need for a knife.
The other dominant philosophy in China is Taoism. Taoists focus slightly less on presentation and more on the properties of the food: will it increase longevity or have a healing action?
Yin and Yang
In Chinese culture (and elsewhere) it's believed that the universe is held together by the balancing of positive (yang) and negative (yin) energy. This philosophy of balancing positive and negative forces in order to create a harmonious state is found throughout all aspects of Chinese life from politics to cookery.
Some foods are yin or 'cold' food e.g. bean sprout, bananas, coconut, water chestnut, while others are yang or 'hot' food e.g. garlic, aubergine, pineapple, turkey, pizza. Deficiencies in or excess of these positive or negative foods can lead to illness and it's a cook's responsibility to create a balanced meal.
Yi xing Bu xing
Skip this paragraph if you have a weak stomach!The Chinese rarely waste potential food, meaning there is no part of the animal that they won't eat. In addition, they believe that 'Yi xing bu xing'. In other words, by using a particular part of an animal's body, the human equivalent will be strengthened. So eat monkey brains for wisdom and tiger testicle for stamina for men. However, these are considered delicacies and only served at banquets and special occasions.
More Than All the Rice in China
A typical meal for a Chinese would consist of rice, soup, and three or four side dishes. Almost every meal in China includes rice of one sort or another; it's the equivalent of potato in a western meal.
In the past only wealthy people could afford white rice that had undergone long and complex processing, and, just like parents in the west used to tell their children to eat up all their dinner and think of the poor starving orphans elsewhere, Chinese parents tell their children to eat every grain of rice else, 'you will marry a pimply person!'
Tea
By 400 AD tea was China's most popular drink. Not native to the country, it's believed to have been taken into China by Buddhist monks, probably for its medicinal purposes. Now there are over a thousand varieties of tea grown there.
Called cha all over China, it's also played a number of roles including state currency and cash. Today tea is exported all over the world from China.
You might also like...