Pepper and Its Use in Asian Cookery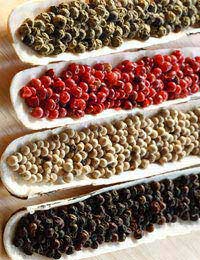 Pepper has always been regarded as the king of spices. Highly treasured and a precious commodity it was used in the past for trading exchanged like money. Native to South India, it's been exported for 4,000 years, although its cost put it out of reach of ordinary people, with only the wealthy being able to afford to use it.
Today, readily available and cheap to buy, it remains the king of spices and accounts for one-fifth of the world's spice trade, Vietnam being the largest exporter.
Pepper As A Medicine
Like many eastern spices, pepper was used both for seasoning and medicine. In 5th century India pepper was prescribed for, amongst other ailments, constipation, earache, sunburn and gangrene.
Pepper gets its spicy heat from a chemical compound called piperine. It has about one-hundredth of the heat in capsaicin found in chillies. Sniffing pepper is said to cause a person to sneeze although this has never been scientifically proven.
The Varieties Of Pepper
Peppercorns are the fruit of the Piper plant and come in a number of different forms:
Black peppercorns are harvested just before they're ripe and then dried. Fermentation takes place and the green berry turns black. If the berry can be left on the plant a little longer, until it's on the very point of ripening, the resultant peppercorn will have a better flavour. The best black peppercorns harvested in this way are called Tellicherry pepper and they're only produced in India.
Fully ripened pepper berries have their outer hull removed before drying. This creates white pepper. It has the same pungency as black but lacks some of the aroma. (The compounds that give black pepper its distinctive smell are to be found largely in the outer hull.)
Green pepper is harvested a long time before it is ripe. The berries are pickled in salt or vinegar, or quick-dried to prevent fermentation. The flavour of green pepper is much lighter and fresher than that of white or black pepper. It's used mostly in western cookery.
On occasions you may come across red peppercorns. These are pickled when ripe and they combine the freshness of the green pepper with the pungent maturity of the black. These provide a garnish for dishes rather than having any culinary use.
Pink peppercorns are also available but these are from an entirely different plant and have very little of the true quality of pepper although, again, they make an attractive garnish.
Storing And Using Pepper
Ground pepper quickly loses its aroma and flavour so buy whole peppercorns and grind as required. Most homes have a pepper mill. A pestle and mortar is useful in the kitchen for larger quantities of pepper or other spices. Keep the peppercorns in an airtight container, away from sunlight.
When cooking with pepper add towards the end of the cooking time in order to preserve the aroma.
Use white pepper for white sauces.
Green peppercorns can be added to sauces or mashed with butter and garlic to make a topping for meat or fish.
In Asian Cooking
Pepper in the past was so expensive that it wasn't absorbed into the cookery styles of many countries. Now, however, with easy availability and affordability, more cooks are introducing it.As a general rule, little pepper is involved in Chinese cooking although some traditional recipes call for Sichuan pepper. This is native to Northern China and is unrelated to black pepper, which is sometimes used in its stead although a connoisseur should be able to tell the difference. Sichuan pepper has a characteristic pungent taste followed by a tongue-numbing effect.
In India, its country of origin, pepper is used generously. It's a constituent of many pastes and curry powders such as garam masala from north India and sambaar podi from the south of the country.
In Thailand it's the fresh green peppercorns that are most popular. They're used in stir fries and in curry pastes. Black pepper is also used in some of the mild stews.
You might also like...