Indian Pickles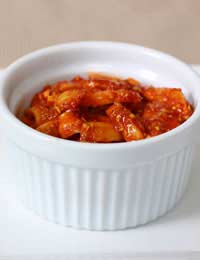 Wakey, wakey! Chutney served with an Indian meal is a wake-up cry to the tastebuds, and prepares the mouth for a feast!
The name comes from the Hindi word 'chatni' from 'chatna' meaning 'to lick', but while the names might be similar, there are big differences between Indian and Western chutneys.
Indian chutneys are rarely cooked. Instead they're a blend of raw vegetables and spices.
Western chutneys are usually a combination of vegetables and spices slowly cooked with vinegar.
Indian chutneys are eaten fresh.
Western chutneys, in which the vinegar acts as a preserving agent, will keep for months.
Green Chutney
1 firm green mango or 1 large cooking apple
A generous handful of coriander leaves
A handful mint leaves
4 green chillies
1 lemon
1 teaspoon ground cumin
1 teaspoon sugar
Core and deseed the chillies. Roughly chop the coriander and mint leaves. Peel and roughly chop the lemon and mango or apple, removing the stone or core.
Place all the ingredients in a liquidiser and whiz until smooth. If it seems too thin add a little water. Add salt and extra chillies to taste. Store in an airtight jar in the fridge or freeze if you're not using it immediately.
Mango Chutney
2 ripe mangoes
2 tablespoons oil
2 dried red chillies
2 black peppercorns
A pinch cumin seeds
¼ teaspoon each of coriander, onion and mustard seeds
½ teaspoon salt
¼ teaspoon paprika
1 teaspoon sugar
1 tablespoon lemon juice
Peel the mangoes and roughly chop the flesh. Mash it with a fork to make a pulp.
Heat the oil and add the chillies, peppercorns and seeds. Stir until they start to pop. Add the salt, paprika and sugar, and mix well. Stir in the lemon juice and mango pulp. Simmer gently for about 5 minutes, stirring frequently.
Pour the chutney into an air-tight jar. It will keep for about 1 week in a fridge.
Green Garlic Chutney
3 garlic cloves, roughly chopped
Bunch chives, roughly chopped
2 cups coriander leaves, roughly chopped
1 cup mint leaves, roughly chopped
1 lime
4 green chillies
1 teaspoon cumin seeds
Salt to taste
Peel the lime and roughly chop the flesh. Dry roast the cumin in a small pan over a gentle heat until it starts to pop - but don't let it burn!
Place all the ingredients except the salt in a liquidiser and whiz until blended. Taste and add salt as required. Store in an airtight jar in the fridge, where it will keep for about 1 week.
Although raita isn't a pickle it is usually served in Indian restaurants with the chutney tray. The recipe we have here will give you a raita very similar to that found in Indian restaurants in Britain. The yogurt has a cooling effect, making it very good to serve with a hot spicy curry.
Raita
Large carton of yogurt (about 500 ml)
2 teaspoons mint sauce
Salt to taste
Mix all the ingredients together until smooth. You can add some chilli powder or freshly ground black pepper if you like.
Lemon Pickle
6 large lemons
½ cup salt
½ cup sugar
¼ cup chilli powder
3 teaspoons turmeric
1 teaspoon methi seeds
1 teaspoon black mustard seeds
¼ teaspoon asafoetida
1 lemon
Wash the lemons and dry them thoroughly. Cut each one into 32 pieces and place in a large preserving jar (a clean glass jar with a tight-fitting lid). Add the salt, sugar, chilli powder and turmeric and shake to circulate the spices.
Dry fry the methi and mustard seeds and asafoetida for a minute or 2, until they're just a little browned. Grind to a fine powder using a spice grinder, if you have one, or a mortar and pestle. Add this to the jar of lemons followed by the juice of 1 lemon.
Shake well to mix. Now if you were in India, you would take the jar out into the sun every morning for about 2 months to cook slowly. You could try leaving it in your airing-cupboard if that's very warm! Otherwise you can cook it in a more usual way on the stove. It needs to be cooked on a low heat very slowly - for about 5 hours - until it has thickened. Watch that it doesn't stick and burn! Then store it in an airtight bottle.
You might also like...