Indian Soup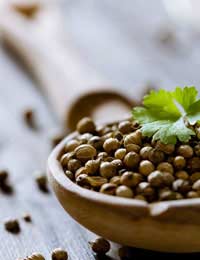 India isn't renowned for its soups and that's because, as a general rule, Indians don't drink soups.
However some areas and groups do include soup in their repertoire e.g. the Muslim meat broths or the fruit and vegetable broths of Karnataka. Rasam, a thin peppery soup, is a feature of south India and was the base from which the Anglo-Indian Mulligatawny was developed.
We've a couple of spicy vegetable soups as well as a tomato rasam.
Cauliflower Soup
1 onion, finely chopped
1" root ginger, peeled and grated
4 garlic cloves, finely chopped
1 teaspoon ground cumin
2 teaspoons ground coriander
¼ teaspoon turmeric
¼ teaspoon cayenne
2 potatoes, peeled and cut into very small cubes
½ lb cauliflower florets
1 litre chicken or vegetable stock
3 tablespoons double cream
Salt to taste
Oil
Heat the oil in a pan and add the onion, ginger and garlic. Stir fry for about 4 minutes. Add the spices and stir. Add the potatoes and cauliflower and stir to coat. Add the stock and bring to the boil. Simmer for 10-15 minutes or until the potatoes are cooked. Whiz the soup in a liquidiser until smooth. Return to the pan, add cream and heat through.
Carrot Soup
1 onion finely chopped
1 lb of carrots, peeled and grated
1" root ginger, peeled and grated
2 teaspoons curry powder
½ teaspoon turmeric
½ teaspoon mild chilli powder
½ teaspoon ground cumin
1 pint chicken or vegetable stock
1 can coconut milk
Juice ½ lime
Oil
Coriander, chopped for garnish
Heat some oil in a pan and add the onion and ginger. Stir fry for about 4 minutes. Add the spices and stir. Fry for another 2 minutes, stirring. Add the carrots, stock, coconut milk and lime juice. Stir well then bring to the boil and simmer for about 20 minutes.
Place in a liquidise and whiz until smooth. Serve hot garnished with chopped coriander.
Rasam is a soup made on an almost daily basis in many South Indian homes. The name comes from the Tamil and means essence. Originally it was made with tamarind and black pepper, both substances easily available in the south Indian area, and today it is still mostly made with either tamarind or tomatoes, although the ingredients can vary depending on locality and availability.
Rasam
4 teaspoons spilt yellow lentils
800 ml water
4 garlic cloves, crushed
6 peppercorns
¼ teaspoon cumin seeds
5 curry leaves
4 tomatoes
¼ teaspoon chilli powder
¼ teaspoon turmeric
Pinch of salt
Handful of coriander
¼ teaspoon mustard seeds
Pinch of asafoetida
½ teaspoon tomato puree
Oil
Rinse the lentils in cold water several times then place in a pan with 800 ml water. Bring to the boil and simmer gently until cooked (about 20 minutes).
Put the garlic, peppercorns and cumin seeds in a mortar and crush with a pestle. Heat 1 tablespoon oil in a pan and add the crushed garlic and spices. Stir fry gently for 1 minute. Wash and chop the coriander. Set aside the leaves. Add the stems to the pan with the spices.
Chop the tomatoes into quarters and add to the pan along with 3 curry leaves. Sieve the lentil stock into the pan. (You can then discard the lentils.) Add the chilli powder and turmeric, stir and bring to the boil. Cover and simmer gently for 15 minutes, stirring occasionally to prevent burning or sticking.
Now you need to make the tempering. This mix of oil and spices will add an extra flavour boost to your soup.
In another saucepan heat 1 tablespoon oil and, when hot, add the mustard seeds. When they start to pop, add 2 curry leaves and a pinch of asafoetida. Stir.
Strain the tomato soup on top of the tempering. Stir and quickly bring to the boil. Add the tomato puree. Check seasoning and add salt to taste.
Serve garnished with the chopped coriander leaves.
You might also like...