Vietnamese Main Course Dishes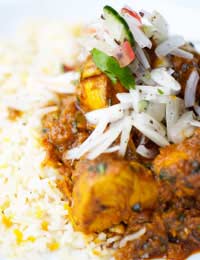 Vietnamese food is delicious and relatively quick and easy to make. Ensuring a balance between spice, herbs and meat produces a taste that is unique amongst Oriental food.
In the south part of Vietnam servings are generally larger and hot chillies will often be used instead of black pepper to give food a spicy kick. Fruit can, on occasion, also be used in some meat and vegetable dishes, due to its availability in the region.
Traditional herbs and salads are often used to add texture, freshness and flavour to dishes. A table salad will often be made up of sliced cucumber, rice, lime wedges, lettuce leaves and shredded carrot to name but a few ingredients.
Vietnamese Chicken Curry
Vietnamese chicken curry is delicious and can be prepared in approximately an hour.
To serve 2 you will need
2 large chicken joints that have been halved
1 1/2 teaspoons of medium curry powder
1/2 a teaspoon of sugar
A small amount of salt and pepper
A clove of chopped garlic
A tablespoon of vegetable oil
A bay leaf
200ml of coconut milk
A carrot that has been cut into thick slices
2 potatoes that have been peeled and cubed
An onion that has been cut into wedges
Lemon grass that has been soaked for approximately 1/2 an hour and cut into 1 inch sections
First take the chicken meat and place it in a large bowl. Next add sugar, salt, curry powder and pepper in with the chicken and ensure that you mix the ingredients well together. Once mixed you should leave the ingredients for approximately 1 1/2 hours, allowing them to marinate. Once marinated take a large saucepan and heat the oil. Next add the potatoes to the saucepan and, using a high heat, ensure that they are brown all over.
After browning remove the potatoes from the saucepan and place on one side. You then need to pour all but 2 tablespoons of oil from the pan before heating up the pan on a high setting and adding the bay leaf, lemon grass, onion and garlic. These should be cooked for approximately 1 minute, during which time they should be stirred constantly.
Fried Chicken
You then need to add the chicken and this should be fried for approximately 7 minutes on all sides. Next take 250ml of water, along with the carrot, and mix well together before bringing to the boil. Once brought to the boil reduce the heat and simmer, after first covering the saucepan, for approximately 15 minutes. During this time you should stir the contents twice. Once you have done this the next stage is to add the fried potatoes with coconut milk and 130ml of water. Mix these well together and simmer for approximately 20 minutes. Rice is often served with this dish.
Braised Pork and Steamed Rice
Pork is also a popular meat in Vietnam and braised pork, served with steamed rice, is delicious.
To serve 2 you will need
750g of pork shoulder, ensuring that the skin and fat is left on
A teaspoon of vinegar
2 tablespoons of oil
2 garlic cloves
1 inch of galangal
1 inch of turmeric
A chopped onion
A tablespoon of fish sauce
7 peppercorns
A cup of water
A teaspoon of shrimp paste
First take the galangal and turmeric and thinly slice them before pounding them, using a mortar and pestle, with the peppercorns. Once you have done this remove the galangal from the mortar and pestle and continue pounding after adding the shrimp paste with garlic.
Once the ingredients have been well pounded add there fish sauce and sugar before placing to one side in a large bowl. Next take the pork meat and, ensuring that it is facing skin side up, place on a grilling tray and cook under a hot grill until brown and the skin is beginning to crackle. Then take the pork and turn it over until the meat browns. Once cooled take the pork and cut into medium pieces.
Marinate the Pork
You then need to marinate the pork for approximately 1 hour in the spice paste mixture. Drain the pork, but ensure that you keep the marinade, and pat dry the meat. You then need to take a pan and heat the oil before adding the onion and pork and cooking at a high temperature until the contents are browned. Any excess oil then needs to be removed from the pan and add marinade, water and vinegar .
This should then be brought to the boil before being covered and simmered for approximately 1 hour, by which time the pork should be tender. You should then cook for a further 10-15 minutes with the pan uncovered. This should enable the sauce to thicken. You then just have to serve with steamed rice.
You might also like...