Vietnamese Meat Dishes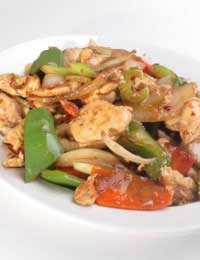 Many Vietnamese meat dishes make use of pork, with many Vietnamese dishes requiring the use of finely minced meat. Pork is also used to make slow cooked stews and spare ribs are also popular. Recipes in this country of over 70 million people differ between the north, south and central parts of Vietnam, but in all regions rice plays an important part in the diet, as does fresh vegetables and herbs, such as coriander, basil and mint to go with dishes, although the cuisine from the north area of Vietnam tends to make less use of herbs and vegetables compared to the southern and central parts of the country.
Vietnamese food has a lot to offer those who enjoy good, healthy dishes combined with an unique taste and character.
Stir Fried Chicken With Lemon Grass, Chilli and Ginger
This fantastic dish can be made in approximately 45 minutes. To serve 2 you will need
A roughly chopped brown onion
2 cloves of garlic that have been finely chopped
2 stems of very finely chopped lemon grass, making sure you only use the white parts
A teaspoon of sugar
An inch of finely grated ginger
A teaspoon of chopped green chilli
1/2 a tablespoon of fish sauce
1/2 lb of thinly sliced chicken thigh fillets
First take the oil and heat in a frying pan or wok, before adding the garlic, onion, ginger, chilli and lemon grass. On a medium heat you then need to stir the ingredients for approximately 3 minutes, by which time they should have taken on a light golden colour. It is very important that the mixture is not burnt as this will produce a bitter flavour. Next you need to increase the heat of the pan or wok to a high setting before adding the chicken meat and stirring well. Next take the sugar and lightly sprinkle over the chicken and cook for approximately 7 minutes, turning the chicken throughout this time.
Lettuce and Pork Parcels
Another Vietnamese favourite is lettuce and pork parcels. These take approximately an hour to make, but the wait is well worth it.
To serve 2 you will need
300g of pork loin
10 thin spring onions
A thinly sliced cucumber
A tablespoon of fish sauce
2 tablespoons of fresh mint
A soft leaf lettuce
2 tablespoons of fresh coriander leaves
A green chilli that has had its seeds removed and been finely sliced
A teaspoon of sugar
Some lemon and garlic dipping sauce
First take a large pan and place the ginger, pork and fish sauce inside, ensuring that they are well covered by cold water. Next bring the pan's contents to the boil before reducing the heat and leaving to simmer, ensuring that you cover the pan, for approximately 40 minutes.
By this time the pork should have become tender. Next remove the pork from the water and leave the meat to cool. You then need to take the spring onions and trim both ends. Next take a pan of boiling water, having thrown away the water used to cook the pork, and ,2 or 3 at a time, blanch the spring onions for approximately 3 minutes. This should be long enough for them to become soft. Once softened, remove the spring onions from the boiling water and place in a bowl of iced water. Next drain the onions and place on a tray.
You then need to take the lettuce leaves and cut away any stiff sections at the base of the leaves. If you do not trim this section off it will be difficult to make your lettuce and pork parcel. Once the pork has cooled enough for you to handle, cut the meat into thin slices before shredding each slice.
Making Your Lettuce and Pork Parcel
Take a lettuce leaf and place a tablespoon of shredded pork in the centre of the leaf before topping with mint, cucumber and coriander, along with a small amount of chilli and sugar. Next take the lettuce leaf and fold part of it over the filling before bringing in the other sides of the lettuce leaf and roll up the parcel. Take a spring onion and tie it around each parcel, making a bow.
Lemon and Garlic Dipping Sauce
Lemon and garlic dipping sauce is ideal for this dish and is made by stirring together 60 ml of lemon juice, 2 tablespoons of fish sauce, and 1/2 a tablespoon of sugar. Stir well until the sugar has dissolved before adding a small red chilli and 2 finely chopped garlic cloves.
You might also like...