Meat in Thai Cooking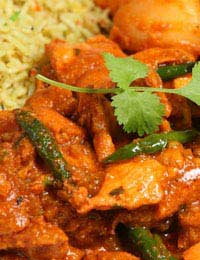 Some Thai meat dishes are VERY hot! But ours aren't - unless you want them to be! In which case add more chillies: the little red birdseye ones are very fierce.
Simple Thai Chicken Curry
2 large chicken breasts, cubed
1 stem lemongrass, roughly chopped
2 kaffir lime leaves
2 potatoes, peeled and cubed
1 red pepper, cored, deseeded and chopped
8 cherry tomatoes
Handful coriander leaves, roughly chopped
Curry paste
1-2 red chillies
1 small onion
2" root ginger, peeled and grated
1 teaspoon ground coriander
1 teaspoon ground cumin
¼ teaspoon freshly ground nutmeg
1 teaspoon turmeric
3 tablespoons fish sauce
1 tablespoon brown sugar
4 kaffir lime leaves, finely chopped
1 tablespoon lime juice
1 tablespoon tomato puree
½ pint coconut milk
Pre-heat the oven to 190oC, gas mark 5.
Place all the curry paste ingredients in a liquidiser and whiz until well-blended and smooth. Mix with chicken cubes, lime leaves and chopped lemongrass, put in a casserole dish and cook for about 45 minutes.
Add the potatoes, pepper and tomatoes, and mix before returning to the oven for another 20 minutes or until both the chicken and the potatoes are cooked.
Adjust the seasoning to taste adding more fish sauce if necessary. If it's too salty, add extra lime juice.
Serve garnished with coriander.
Beef Satay
1 tablespoon Thai red curry paste
1 can coconut milk
1 tablespoon fish sauce
2" root ginger, peeled and grated
1 lb tender steak
To make the marinade, first pour ½ of the coconut milk into a small saucepan with the curry paste. Bring to the boil and stir until smooth and well-combined. Remove from the heat and add the rest of the coconut milk, fish sauce and ginger. Mix well. Allow to cool.
Cut the steak into slices about ½" thick. Place them in the marinade, making sure they're well-coated, cover and leave in the fridge overnight.
While the steak is marinating soak some bamboo skewers in water.
When you're ready to cook, pre-heat the grill, thread the meat onto the skewers and cook for about 3 minutes a side or to taste.
Easy Ginger Beef
1 lb tender steak, finely sliced
3" root ginger, peeled and grated
1 tablespoon Thai red curry paste
1 large onion, finely sliced
2 red peppers, cored, deseeded and finely sliced
3 tablespoon sweet chilli sauce
2 tablespoons light soy sauce
Oil
Thai sweet basil leaves for garnish
Heat some oil in a wok. Add the beef and a spoonful grated ginger and stir fry until beef is just cooked. Remove beef and set aside.
Add curry paste and onion to the pan and stir fry for 2 minutes. Add the peppers and the rest of the ginger. Continue stir-frying until the onion and peppers are cooked but still crunchy.
Add the chilli and soy sauces and mix well. Return the meat and its juices to the pan and heat through. Serve garnished with chopped basil.
Although not strictly an authentic Thai dish, this salad has the flavours you would associate with the country, and makes good use of left-over lamb.
Spicy Thai Salad
1 tablespoon fish sauce
Juice of 1 lime
2 tablespoons light soy sauce
1 tablespoon wine vinegar
1 tablespoon brown sugar
2 teaspoons sesame oil
¾ lb cold roast lamb, thinly sliced
1 carrot, grated
4 oz mange tout, topped and tailed and sliced diagonally
2 oz bean sprouts
Handful mint leaves
Handful coriander leaves
A few Thai sweet basil leaves
1 red chilli, finely chopped
1 clove garlic, finely chopped
1" root ginger, peeled and grated
2 spring onions, finely chopped
2 lime leaves, finely chopped
1 tablespoon dry roasted peanuts, crushed
Place the first 6 ingredients in a screw-top jar if you have one or, if not, in a jug. Shake or stir well to make the salad dressing.
Place all the remaining ingredients in a large bowl, add the dressing and toss together so everything gets coated with the dressing. Cover and leave in the fridge for an hour or so to chill.
Serve on a bed of mixed salad leaves, garnished with chopped coriander leaves and accompanying Thai sweet chilli sauce.
You might also like...