Quick & Easy Thai Recipes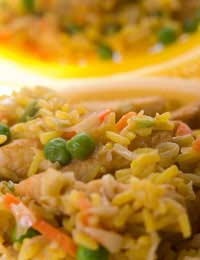 For a Thai-style evening meal for the family, choose one of our quick and simple recipes using easy-to-find ingredients.
Stir-fried Chicken Noodles
1 pack medium noodles
1 large chicken breast
1 small onion, finely chopped
2 tablespoons light soy sauce
3 tablespoons oyster sauce
1 tablespoon dark soy sauce
2 tablespoons sugar
4 oz mushrooms, sliced
1 large carrot, peeled and cut in matchsticks
About ¼ hard green cabbage, finely shredded
3 spring onions, roughly chopped
1 tablespoon oil
Cook the noodles according to the instructions on the packet.
Wipe the chicken breast and cut into shreds.
Heat the oil in a wok and add the onion. Stir fry until beginning to look translucent. Add the chicken and the sauces and sugar. Continue stir-frying until the chicken is almost cooked. Add the mushrooms and carrots and mix well. Stir in the drained noodles. Add the cabbage and cook for a further 30 seconds. Add the spring onions and serve immediately.
Thai Chicken Fried Rice
3 cups cooked rice, at least 1 day old and refrigerated
2 garlic cloves, finely chopped
1 small red or green chilli, finely chopped
1 large chicken breast, cut into small pieces
chicken stock
2 tablespoons fish sauce
1 egg, beaten
½ cup peas, frozen or fresh
Oil
3 spring onions, roughly chopped
Coriander leaves, chopped
Mix 1 tablespoon oil in with the rice, using your fingers to separate the grains.
Put 2 tablespoons oil in a wok and when it's hot add the garlic and chilli. Stir fry for about 1 minute. Add the chicken and stir fry until cooked (about 3 - 5 minutes depending on size). Add a little stock if it begins to stick. Set aside.
Add the egg to the wok and stir fry until lightly cooked. Return the chicken to the pan, add the rice and fish sauce, and stir well. Heat gently for 1 minute then add the peas and continue stir-frying for 2 minutes or until the peas are just cooked. Add salt to taste.
Serve immediately with the spring onions and coriander leaves as garnish.
If a dish is too salty, add a little lime juice.
Easy Thai-style Sweet & Sour Pork
2 lb pork spare rib chops
water
3 spring onions, finely chopped
Marinade
3 tablespoons light soy sauce
2 tablespoons dark soy sauce
4 tablespoons tomato ketchup
1 teaspoon salt
½ cup runny honey
Mix all the marinade ingredients together and leave the chops to marinate overnight (or for 2 hours at least).
Place the chops and the marinade in a saucepan and add enough water to cover the chops. Bring to the boil and simmer, covered, until the chops are tender. Remove the cover and reduce the sauce to a thick glaze and serve garnished with the spring onions.
Thai Marinated Chicken
4 chicken legs (thigh and drumstick)
Coriander leaves, finely chopped for garnish
Marinade
4 garlic cloves, finely chopped
2 tablespoons coriander, finely chopped
1 tablespoon fish sauce
2 tablespoons lime juice
1 tablespoon sugar
1 teaspoon freshly ground black pepper
Crush the garlic and coriander together with a mortar and pestle. Add the remaining marinade ingredients and mix well.
Make deep slits in the chicken and place in a single layer in a shallow dish. Pour over the marinade, turning the chicken to make sure it's well-coated. Leave overnight (or for 2 hours at least).
Grill under a medium heat for about 20-25 minutes until the chicken is cooked. Serve garnished with chopped coriander leaves.
You might also like...