Thai Vegetable & Vegetarian Dishes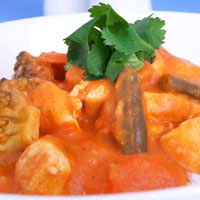 Vegetarians planning to visit Thailand should go prepared: a lot of Thai vegetable - and even vegetarian - dishes are flavoured with fish sauce! And even sesame sauce can contain extracts of animal produce.
Fish sauce is one of the commonest ingredients in Thai cooking. Light soy sauce can be used in it place although the finished dish won't have quite the same taste. Alternatively, you may be able to buy vegetarian 'fish' sauce, made from soybean, chilli and seasoning, from an Asian grocer.
Saucy steamed mushrooms
6 shiitake mushrooms
1 pak choy
200g rice straw mushrooms
1 pack tofu
1 red pepper
1 teaspoon plain flour
¼ teaspoon freshly ground pepper
3 teaspoons light soy sauce
1 teaspoon dark soy sauce
Oil
Wash and shred the pak choy. Place in a bowl that will fit into a steamer or over a pan for steaming. Halve the shiitake mushrooms and place on top of the pak choy. Mix the rice straw mushrooms with the roughly chopped tofu and 1 teaspoon light soy sauce. Put this mixture on top of the shiitake mushrooms.
Stir together the remaining soy sauce, flour, pepper and 1 tablespoon water. Pour onto the rice mushrooms and tofu.
Finely shred the red pepper and scatter over. Steam for about 25 minutes. Serve hot.
Pak choy is a member of the Mustard family. The white leaves at the base are less tender than the green tips so shred them more finely.
Rice straw mushrooms are so called because they are grown traditionally on a bed on rice straw. They're small grey-brown mushrooms with a silky texture and delicate flavour. Only available in this country in tins, from an Asian grocer.
Vegetables in coconut milk
1 cup coconut milk
½ cup garden peas (if you use frozen peas, partly defrost first)
½ cup green beans, sliced
½ cup mushrooms, sliced
1 cup white cabbage, finely shredded
1 small onion, finely sliced
1 tablespoon light soy sauce
1 tablespoon sugar
1 red chilli, cored, deseeded and finely chopped
1 kaffir lime leaf, shredded
Bring the coconut milk to the boil and simmer gently. Add the sugar, soy sauce and lime leaf. Add the onion and chilli and simmer for 2 minutes. Add the cabbage, green beans and mushrooms and continue to simmer until almost cooked. Add the peas and finish cooking. Serve with hot rice or noodles.
Kaffir lime leaves can be bought fresh on the internet and if you choose that option remove the stalk and main rib before shredding as they can be tough. Otherwise use dried or frozen leaves.
Thai Red Vegetarian Curry
9 oz tofu
1 tablespoon Thai red curry paste (check that it doesn't contain animal extract)
2 red onions, finely sliced
1 garlic clove, finely chopped
1 aubergine, cubed
1 courgette, cubed
4 oz green beans, in 1" slices
4 oz mange tout
½ pint coconut milk
Juice of 1 lime
Salt and pepper
Oil for frying
Coriander for garnish
Wrap the tofu in kitchen towel and squeeze gently to get rid of excess water. Chop roughly. Heat some oil in a pan and fry tofu until golden. Remove the tofu from the pan and add more oil if necessary. Fry the aubergine, onion and garlic for 5 minutes. Add the curry paste, stir and cook gently for 2 minutes. Add the courgette, green beans, mange tout, tofu and coconut milk and bring to the boil. Simmer for about 15-20 minutes. Add the lime juice and seasoning to taste.
Garnish with chopped coriander and serve with rice.
Pineapple Fried Rice
3 cups of cooked rice
1-3 tablespoons oil
2 tablespoons soy sauce
2 teaspoons mild curry powder
1 medium onion, finely chopped
3 garlic cloves, finely chopped
1 red chilli, cored, deseeded and finely chopped
1-3 tablespoons vegetable stock
1 egg
½ cup frozen peas
½ cup shelled cashews
¼ cup raisins
1 small can pineapple chunks in juice, drained
3 spring onions, finely chopped
A handful coriander leaves, chopped
Mix 1 tablespoon oil with the rice, using your fingers to make sure all the rice is coated. Mix the curry powder with the soy sauce.
Heat 1 tablespoon oil in a wok. Add onion, garlic and chilli and stir-fry for 1 minute. As the wok starts to dry, add a little stock. Add the beaten egg to the wok and stir until lightly cooked, adding more stock as necessary to prevent the pan drying.
Add the peas, cashews and curry/soy mixture. Stir fry for 1 minute. Add the rice, pineapple and raisins. Stir fry over a medium-heat until all ingredients are heated through. .
Serve garnished with spring onions and coriander.
Use rice that was cooked a day or two previously if possible. If you're cooking it freshly, leave it to stand uncovered in the fridge for an hour or so before using.
If a dish is too salty, add a squeeze of lime juice.
You might also like...