Thai Drinks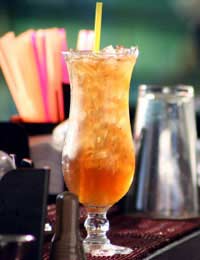 In a country as hot as Thailand, it's unsurprising that its most popular drinks feature plenty of ice! More surprisingly perhaps is that condensed milk is also a feature of some. Its sweet milkiness helps to combat the heat of the spicy food for which Thailand is renowned.
Thai Iced Tea
Per glass you need:
¼ pint water
2 teaspoons black tea leaves
2 teaspoons sugar
1 tablespoon condensed milk
crushed ice
Boil the water and pour on top of the tea leaves (in a teapot or jug). Allow to stand for 2 minutes and then strain. Add the sugar then leave to cool. Fill a glass with crushed ice and add the condensed milk. Pour on the cold tea and stir before serving.
Thai Iced Coffee
Per glass you need:
2 tablespoons filter coffee
¼ pint water
1-2 tablespoons condensed milk
Ice cubes
Prepare the filter coffee in your usual way. Place the condensed milk in a tall glass. Half-fill the glass with coffee and stir well. Fill the glass with ice and stir again before serving.
Coconut Milk
1 young coconut
3 cups of cold water
Break open a coconut and grate the flesh into a large piece of cheesecloth over a bowl. Pour over the water. Squeeze the water and grated coconut together with your hands. Do this for about 5 minutes then lift the cheesecloth up, make a ball of the coconut and squeeze out as much of what is now coconut milk as you can. Discard the coconut and enjoy the drink.
A young coconut is pale-coloured and doesn't have the rough hairy covering of an older one.
Iced Watermelon
Cut open the watermelon and roughly chop the flesh. Discard most of the seeds.
Crush the ice well before putting some in a blender. Whiz it to make a slush. Add the watermelon flesh and keep whizzing and adding ice or watermelon until you have a drink of the right consistency. Serve in a tall glass with a straw.
Thai Lemonade
200 ml water
4 oz sugar
3 lemons
½ litre soda water
Ice
Put the water and sugar in a small saucepan and bring to the boil. Simmer, stirring, until the sugar has dissolved. Set aside to cool.
Halve and squeeze the lemons. Put the juice into a jug with the soda water. Add the sugar syrup, stirring and tasting until it's just right for you.
Fill a glass with crushed ice and cover with the lemonade. Serve garnished with a slice of orange and a straw.
Thai Cocktail
2 oz white rum
2 cups roughly chopped pineapple flesh
2 oz pineapple juice
2 oz orange juice
1 oz coconut milk
crushed ice
Place the first 5 ingredients in a blender and whiz for 30 seconds. Add crushed ice and blend until you have a slush. Add more ice as necessary. Serve garnished with a slice of pineapple.
For an authentic Thai flavour use seeded and sliced fresh jackfruits if available.
Jackfruits are part of the mulberry family and can reach 3' in length and weigh up to 75 lbs!
We'll finish off with a drink that looks a little bit unusual!
Thai Sweet Basil seed drink.
For this you need Thai Basil seeds, which are available from Asian supermarkets - or you can grow your own!
¼ cup caster sugar
2 cups water
1 tablespoon clear honey
4 teaspoons Thai sweet basil seed
Stir the sugar into the water until it dissolves. Add the honey and stir. Add the basil seeds and stir. Leave for a few minutes before drinking.
The basil seeds will expand and it will look as though you are drinking frog spawn!
Thai custom says that this drink is an aid to slimming.
You might also like...