Thai Rice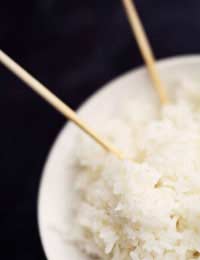 Rice in some form or another is a staple part of the Thai diet. As well as the traditional long-grained variety with which we're familiar, Thais, especially in the north of the country, use a medium-grained sticky rice variety.
And then there's jasmine rice. This originated in north-eastern Thailand and it got its name from its scent, which is reminiscent of the jasmine flower. Simple jasmine rice is good to serve as an accompaniment with Thai meals but for recipes that involve other ingredients long-grained or basmati rice is best.
Thai Fried Rice with Chicken
2 eggs
2 teaspoons light soy sauce
1 teaspoon fish sauce
1 large chicken breast, cubed
1 tablespoon fish sauce
2 garlic cloves, finely chopped
4 cups cooked rice that has been chilled in the fridge
Freshly ground pepper
Pinch of sugar
Oil for frying
Cucumber, spring onions for garnish
Beat the eggs with the soy sauce and a teaspoon of fish sauce.
Heat some oil in a wok and stir-fry the chicken for about 4 minutes or until cooked. Add a tablespoon fish sauce as you stir-fry. Remove from the wok and set aside.
Add a little more oil and lightly fry the garlic, stirring al the time. Add the rice and stir well to ensure all the grains are separated. Stir in the chicken, eggs mixture, pepper and sugar. Stir well and heat through. Serve with slices of cucumber and chopped spring onions.
One of the country's most famous products is Thai sticky rice.
Sticky or glutinous rice has been grown in East Asia for over 1,000 years, and research has shown that it was even used to help cement the Great Wall of China! It doesn't contain gluten but has a glutinous or sticky texture when cooked. If the recipe asks for sticky rice, you need sticky rice! No other sort will do.
In north and east Thailand a lot of sticky rice is eaten and many of the older generation prefer it. It's also used for brewing Thai rice wine (sato). According to tradition, too much sticky rice sends you to sleep.
To prepare sticky rice
First rinse the rice several times until the water runs clear. Then put the rice in a bowl and cover with water. Let it stand overnight.
Drain the rice and wrap it in cheesecloth if possible. Put the wrapped rice in a steamer and cover. Steam over boiling water for about 45 minutes or until cooked. (Don't let the bottom of the steamer touch the boiling water!)
Then, traditionally, the rice is turned out onto a work surface and kneaded with a wooden spatula until it forms into a ball that can be stored for later use. At mealtime, each person takes a handful to shape into a small ball for dipping into a spicy sauce.
Sticky Rice Balls
1 lb chicken breast, minced or shredded finely
1 egg
1 tablespoon cornflour
2 tablespoons freshly ground pepper
4 spring onions, finely chopped
A handful coriander leaves, finely chopped
10 oz cooked sticky rice
In a large bowl mix together all the ingredients except the rice. Shape into small (½") balls. Cover each ball in sticky rice.
In a steamer place a layer of green cabbage leaves. Brush with oil. Place the rice balls on the cabbage, keeping them apart to stop them sticky together. Steam over boiling water for about 20 minutes or until cooked.
Serve with accompaniments of fish sauce, lettuce, pineapple slices, tomatoes and sugar.
Sweet Banana Rice
1½ cups uncooked sticky rice
2 cups coconut cream
4 tablespoons sugar
Pinch of salt
4 small bananas
Soak the sticky rice overnight in water.
Mix together the coconut cream, sugar and salt. Drain the rice and put in a pan over a low heat (non-stick is best). Slowly add the coconut cream and simmer gently for about 1 hour, stirring frequently to prevent sticking, until the rice is tender and most of the coconut cream absorbed. Leave to cool.
Lightly oil some small sheets of foil. Place a layer of rice on the foil. Top with a banana, cut in half and sliced down the middle. Cover with rice and secure the foil to make a package. Repeat for each banana. Steam over boiling water for about 15 minutes. Allow to cool slightly, unwrap and serve warm with ice-cream.
You might also like...