Indian Vegetable & Vegetarian Dishes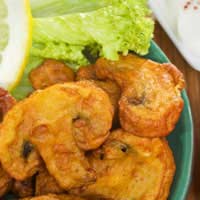 Indian cookery includes lots of recipes for vegetable and vegetarian dishes. India has a high proportion of vegetarians amongst its people and even those who eat meat, eat less of it than we do in the west.
So try some of these recipes and then create your own variations.Aloo gobi is an example of a dry curry i.e. one that is cooked and served without sauce. Aloo means potato and gobi means cauliflower.
Aloo Gobi
1 onion, finely sliced
2 tablespoons oil
1 cauliflower, broken into small florets
2 potatoes, peeled and cubed
1 teaspoon cumin seeds
½ teaspoon turmeric
½ teaspoon cayenne
½ teaspoon cumin
½ teaspoon coriander
1 teaspoon garam masala
Salt to taste
Heat the oil in a wide-based pan (you'll need one that has a lid). Toss the cumin seeds in the oil for a few seconds, then add the onion and fry for 2 minutes. Add the rest of the spices and mix them in well.
Add the potato and cauliflower. Mix well to coat then turn down the heat, put on the lid and allow cooking. Stir frequently. They should start producing their own liquid, but if the vegetables show signs of sticking add some water. When the vegetables are cooked to your liking, turn out and serve garnished with some chopped coriander.
Pakora
2 cups chickpea flour (available from Asian grocers)
1 teaspoon turmeric
1 teaspoon cumin
1 teaspoon coriander
Pinch salt
Pinch cinnamon
1½ cups water
Oil for frying
A mixture of vegetables such as:
Aubergine, thinly sliced
Potatoes, peeled and thinly sliced
Red pepper, cored, deseeded and finely sliced
Mushrooms, wiped and finely sliced
Broccoli or cauliflower florets
Sieve the flour and spices together. Add the water gradually and whisk to make a smooth batter.
Heat some oil in a wok or deep fryer. Dip the vegetable pieces in the batter, making sure they're well-coated. Deep fry several at a time until crisp and golden. Drain on kitchen towel. Serve with chutney or raita.
Simple Vegetable Curry
4 cups of mixed vegetables (to your taste e.g. potatoes, carrots, cauliflower, aubergine, all chopped to a similar size, plus green beans, peas, broccoli florets)
2 onions, finely sliced
1" grated root ginger
1 clove garlic, finely chopped
1 red chilli, deseeded and finely chopped
2 teaspoons garam masala
2 cups coconut milk
3 tablespoons oil
Salt
1 cup water
Parboil the vegetables until almost cooked.Heat 1 tablespoon oil and fry the onion until soft. Add the garlic, ginger and chilli and continue to fry for another minute. Mash together to make a paste. (Use a pestle and mortar if that's easier.)
Heat the remaining oil and add the paste to it. Stir fry for 1 minute. Add the vegetables and salt, mix well, cover and cook gently until the vegetables are tender.Stir in the garam masala, coconut milk and water. Simmer very gently for about 3 – 4 minutes. Serve garnished with chopped coriander.
Chickpea Masala
1 tin chickpeas, drained and rinsed
1 onion, roughly sliced
1 large tomato, roughly sliced
1 green chilli, deseeded and finely chopped
4 cloves garlic, chopped
1" grated root ginger
3 bay leaves
1 teaspoon coriander
1 teaspoon garam masala
1 teaspoon chilli powder
½ teaspoon turmeric
Salt to taste
Oil for frying
Place the onion, tomato, chilli, garlic and ginger in a liquidiser and blend to make a smooth paste. You could use a mortar and pestle but it will be harder work.
Put 1 tablespoon oil in a frying pan and add the bay leaves. Toss them around to coat them in oil and then add the paste. Fry stirring until a golden-brown colour develops.Add the salt and spices and stir well. Cook for 2-3 minutes. Add enough water to make a sauce. Bring to the boil. Add the chick peas, return to the boil and simmer for about 8 minutes. Serve garnished with chopped coriander.
Tomato and lentil dahl
1 cup red lentils
3 cups of water
1 tablespoon oil
1 onion, finely sliced
¼ teaspoon turmeric
½ teaspoon cumin
½ grated root ginger
1 clove garlic, finely chopped
1 tin tomatoes
Put the lentils and water in a saucepan, bring to the boil and simmer until the lentils are tender.Meanwhile heat 1 tablespoon oil in a frying pan. Add the sliced onion and fry until softened. Add the turmeric, cumin, ginger and garlic and mix well. Fry for another minute.Add the tomatoes and simmer for 5 minutes. Mix the lentils in and serve warm with lots of naan bread to scoop it up.
You might also like...